Braised Balsamic Chicken
(Serves Six)
6 skinless, boneless chicken breast halves ground black pepper to taste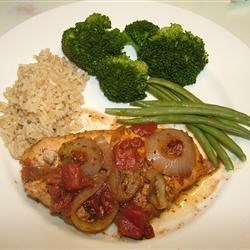 1 teaspoon garlic salt
2 tablespoons olive oil
1 onion, thinly sliced1/2 cup balsamic vinegar
1 (14.5 ounce) can diced tomatoes
1 teaspoon dried basil
1 teaspoon dried oregano
1 teaspoon dried rosemary
1/2 teaspoon dried thyme
1. Season chicken breasts with ground black pepper and garlic salt. Heat olive oil in a medium skillet, and brown the onion and seasoned chicken breasts.
2. Pour tomatoes and balsamic vinegar over chicken, and season with basil, oregano, rosemary and thyme. Simmer until chicken is no longer pink and the juices run clear, about 15 minutes.
Prep: 10 mins
Cook: 20 mins
Ready: 30 mins
Amount Per Serving – Calories: 206 / Total Fat: 6.1g / Cholesterol: 68mg / Sodium: 538mg / Total Carbs: 7.5g / Dietary Fiber: 1.1g / Protein: 28.2g
Recipe from AllRecipes.com.